TOP → 入学手続 → インファントクラス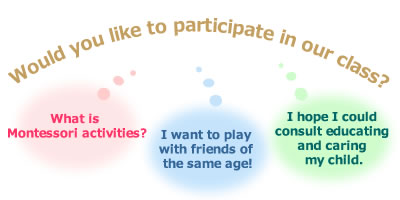 Our Infant class is a class for little children and their parents.
Our curriculum consists to introduce Montessori activities, have fun with English songs, make art and craft activities with parents.
If you have any questions about educating and caring your child, we can share opinions to each other. Furthermore, you are also consulted by our principal.
Let's join in out Infant classes and enjoy together!
Information
Date

11th and 25th September 2014

  【We accept reservations】 Friday, 1th August 2014


9th and 23th October 2014

  【We accept reservations from】 Monday, 1th September 2014


6th November 2014

  【We accept reservations from】 Thursday, 2nd October 2014


18th December 2014

  【We accept reservations from】 Tuesday, 4th of November 2014


22nd and 29th January 2014

  【We accept reservations from】
    From Monday, 1th December to Monday 22nd December 2014


12nd and 26th February 2015

  【We accept reservations from】
    From Thursday, 8th January to Friday 30th January 2015
Age group

Children who were born between April 2nd, 2012 and April 1st, 2013 and their parents

Capacity

10 parent-child couples in one class (We close reservations when the capacity is filled. )

Belongings

Spare clothes for your child

Place

Mizuho School
〒177-0045 3-2-25,Shakujii-dai,Nerima-ku,Tokyo
TEL:03-5372-1525

Date/Time

Our classes open on Thursday every two weeks
Class No.1  9:25 Welcome    9:30 Starts   10:20 Finish
Class No.2  10:25 Welcome   10:30 Starts   11:20 Finish
Please come to our school on time to make sure that you can join in all activities.
※We apologize that we do not have enough car park slots. Please let us know if you would like to come to our school by car.

Fee

1500 yen per class. We will collect the fee at the beginning of the classes.
Please prepare the exact amount of money before paying the fee.

How to make the reservation

We start to receipt your reservations from the previous month for the day you would like to join in our classes. (Please refer to the above chart)
Reservation time: 12:00 to 17:00, on phone.
Cancellation: Please contact us by 15:00 of the previous day.
TEL:03-5372-1525
If you have any questions, please do not hesitate to contact us.